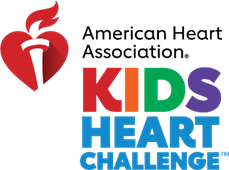 Our American Heart Association Kids Heart Challenge event will begin soon! We are doing Kids Heart Challenge in honor of heart survivors right here in our community, and we are focusing on how to save a life! We need you to help our classroom win the challenge!
When you register online, you will see a picture of a heart survivor named Finn. Complete all the steps of Finn's Mission and watch his slow rise ball light up! PLUS, your student will earn a slow rise ball too when Finn's Mission is completed!
Here's what you can do to help:
Complete Finn's Mission: Watch a 2-minute video to know Hands-Only CPR, spot the signs of a stroke and more!
Share with friends and family through social media, text and/or email.
 Plus, the classrooms in each grade level with the most students registered online will win the classroom challenge, so sign up today!
Watch this video to hear from a family that learned Hands-Only CPR through Kids Heart Challenge and how they saved a life.