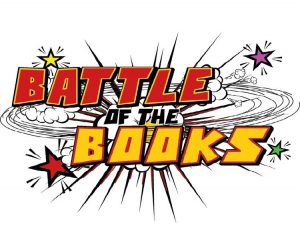 Parents of 4th and 5th grade Battle of the Books Team members 2023-24.
Team meetings are scheduled for Thursday Mornings @ 7:50am. Thank you for making sure your child can arrive by this time on Thursdays.
Please sign up for Battle of the Books Team REMIND alerts  https://www.remind.com/join/ebob232
What is Elementary Battle of the Books?
The purpose of this program is to encourage reading by all students. Students are exposed to quality literature representing a variety of literary styles and viewpoints by prominent authors. The game format creates interest and excitement in reading. Through the fun and excitement of the competition, students improve reading skills, expand their choices of reading materials, and acquire a broader knowledge base.  Even during the height of the competition, students and coaches should remember that the goal is to READ, not necessarily to win!
This is a
select

group of 4th and 5th graders who will compete against other elementary school teams in the Haywood County Elementary Battle of the Books (EBOB) competition in March.
What do I have to do?
You have to be a 4th or 5th grader.

You will need to fill out and sign a student agreement.
You have to be willing to memorize the title & authors of 15 great books, as well as read all 15 books listed on the Elementary Battle of the Book List.

You will also be asked to answer questions about your reading.

You have to be a great team player!
Other important information:
 To know which books to read, please take a look at the North Carolina School Library Media Association's 2023-2024 Elementary Battle of the Books booklist. Begin studying the author's names and the titles of all 15 books.
We will have all of these books available for check-out in the Media Center. Interested students are encouraged to purchase their own copies if they like, but we will make sure each team member has access.
Team members will be expected to read one book a week for 15 weeks.
They will take Book Quizzes as they read.
There are only 12 spots available on the team, so effort will be taken into account!
We will begin once-weekly practices starting in October so that we can be ready for our county competition in March!
Click here to download and print the EBOB Student agreement