Hello! 😁 Getting to Know Your Principal…
My name is Amanda Watson, and I am beyond excited to be the new principal at Bethel Elementary! I learned so much from the wonderful Mrs. Hollingsworth over the years…she is already greatly missed!! One thing is for certain…I won't know everyone's name right off the bat like she did…wow!! A little background on your new principal… I have worked at Bethel for 19 years and it has always been my dream to be leading such a wonderful group of students and staff…not to mention the families I get to serve! Students, you are the best in the world and what makes Bethel Elementary such a wonderful place!! At Bethel, I taught fifth grade for many years (probably taught some of you!) and then I have been the assistant principal at both Bethel Middle and Bethel Elementary for several years as well. This is my 24th year as an educator in Haywood County Schools…time sure flies when you are having fun!!
My husband Brad and I met at Lenoir- Rhyne University and have been married 23 years. He played football and I was a softball pitcher for the Bears. I was born and raised in West Virginia and love my WVU Mountaineers football! We have two children that make our days so much fun (see the pic)- Lettie Jo is 18 years old and is going to the University of Tennessee this fall for college…enjoy your kiddos- they grow up so fast!! Tate is our bull rider and an 8th grader at Bethel Middle School.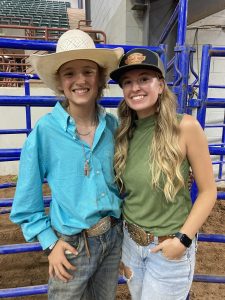 Again, I am very excited to be your principal. If you ever have any questions, you can call me at school, 828-646-3448, or email me at awatson@haywood.k12.nc.us . I appreciate your support and look forward to working alongside you to make this the best year ever!!
I can't wait to see everyone!!
Enjoy the rest of the summer!
Mrs. Watson